PM National competition at SM ULTRA, 25th of June
ARENA
Arena Nordliften will be the venue for the national competition, the Swedish championship and for TrailO. 
PARKING
We refer to parking at your own accommodation at Idre Fjäll. You can also park at the Ski Stadium at Idre Fjäll and from there walk/cycle to both arenas. ATTENTION! Walking/cycling path approx. 1500 m. No stripes – use the map!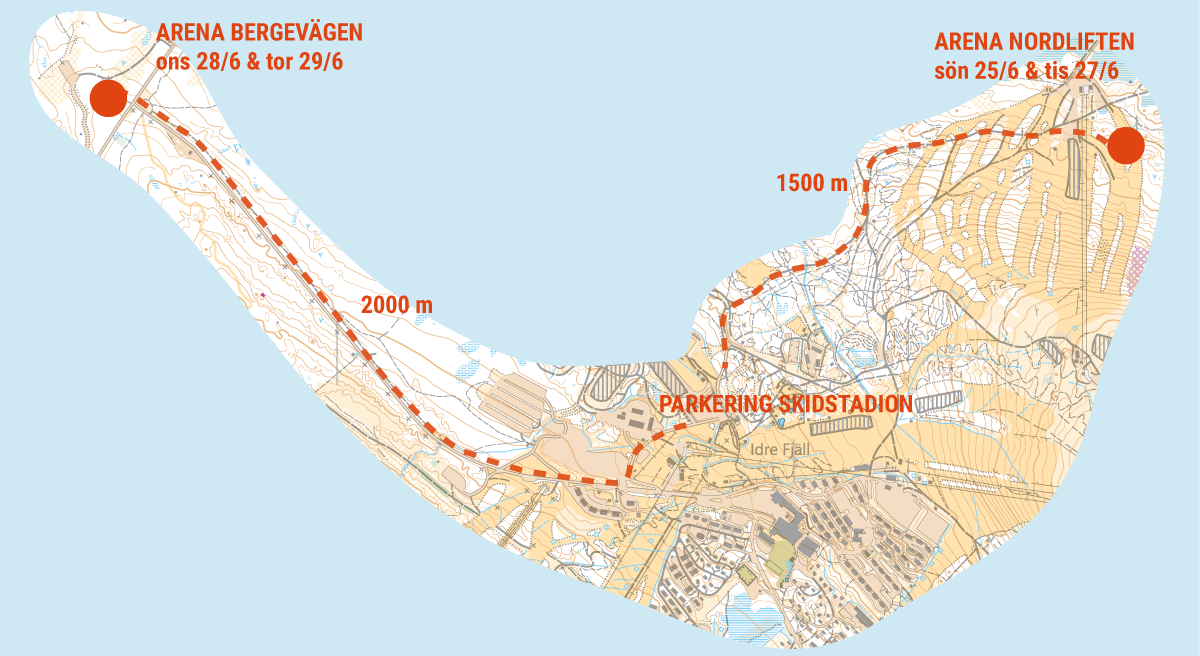 START
First regular start 12.00. Open classes have a free start time between 12.00 - 1.30 p.m. The start and separate finish for the national competition is very close to the arena for SM ultra-long. All classes have the same start!
LATE START
Runners who are late to the start will be offered to start between two runners in the same class. No time compensation for late start. Runners must report to the official to start and follow instructions.
PUNCHING AND TIMING SYSTEMS
Emit EKT for punching. Your own badge can be used and for those who do not have their own, they will be allowed to borrow a badge for free. The EMIT-badge can be picked up in person at the Info Center near the Reception at Idre Fjäll Saturday 2-7 pm or at Arena Nordliften, Sunday from 11 am. We would prefer that as many as possible pick up their badge on Saturday. If you are also going to run 3-day runs, use the same EMIT-badge all week.
MAP
Drawn 2019-2023 by Kenneth Kaijsajuntti, Per Forsberg and Tord Hederskog. Scale (see below), equidistant 5 meters, digitally printed at Örebro University Repro.
The map scale for the different classes are:
HD10-14, HD45-HD80 - 1:7500
HD16-HD40 - 1:10000
HD18-21 - 1:15000
Open courses – 1:7500, except Difficult 7 km which has 1:10000
SHOWER
There is no shower at the Arena. We refer you to your own accommodation or the Activity Center at Idre Fjäll, for a small fee.
OPEN CLASSES
Very easy 2 km, Very easy 4 km, Easy 2.5 km, Easy 5 km, Medium 3 km, Medium 5 km, Difficult 3 km, Difficult 5 km, Difficult 7 km
FEES, OPEN COURSE
Up to 16 years; SEK 80, 17 years - SEK 150. Increased fee by 50% when registering on the day of the competition.
CONTROLLER
Orange/white flag on skewer with EMIT unit.
Since the National Camp, with approx. 600 young people, is also on Idre Fjäll this week, there may be other checkpoints out in the forests, sometimes at the same checkpoint. However, they do not use large control flags with EMIT devices, but smaller flags and stripes in different colors.
CONTROL DESCRIPTION
Printed on map and separately available at start.
REFRESHMENT
Refreshment are provided on the longer courser.
CLOTHES/SHOES
Full-coverage clothing is required. Shoes with metal studs are allowed.
CONTEST RULES
SOFT's competition rules apply as well as this PM.
MAX TIME
2.5 hours
IF YOU ABORT THE RACE
The runners who have aborted their race and have not passed the finish line and readout must go to the finish for the SM race and punch out.
RESULTS
Results are published on Eventor.
LIVE RESULTS
Found at liveresultat.orientering.se.
AWARD CEREMONY
All participants in HD10-16 receive a prize directly at the finish line, the three best in HD10-16 will also get prizes at the award ceremony for SM Ultra - På Torget, Idre Fjäll Sunday 17.00. There will be a gift card lottery among all starters. Then you can win great prizes from Idre Fjäll in the form of cabin weeks and weekends. ATTENTION! To have the chance to win a prize in the lottery, you must be present during the award ceremony in the square!
FOOD AND REFRESHMENTS
Coffee, refresehments, sweets and hot sausage are offered, among other things at the arena.
TOILETS
Toilets are located next to the arena. ATTENTION! Not at the start!
FIRST AID
At the arena.
CHILDCARE
Childcare is offered at the arena from 11.30. Minimum age 2 years.
MINIKNAT
In the arena, next to the childcare. Start from 11:30. No cost.
SHOWER
No showers at the arena. We refer to Idre Fjäll (20:-) and your own accommodation during the week.
COMPETITION MANAGEMENT
Competition leaders: Tomas Yngström, 070-3810007 and Malin Yngström 070-6159637
Course setter: Mattias Karlsson
Competition controller: Sven Larsson, Särna